Stitch 'N Time Fabrics Reopening - PHASE ONE

Dear Stitch 'N Time Friends,

On Friday May 1, Governor Holcomb called for a phased reopening of our state. Almost immediately Facebook and online local news posts were flooded with individuals sharing their opinions on whether businesses should or should not reopen. Those opinions were quite polarized. I listened and was mindful of what is important to our community as I struggled to make decisions.

For a small business, the decision on when to reopen after COVID-19 is a complex one. It's not only about the obvious concerns, it's also about employees that are like family to me and it's about their ability to feed their families and pay their bills, it's about the health of my family, my staff, my customers, and my community. And...it's about so much more.

Soon after the directive to close was enforced, I began planning my reopening strategy. Some may disagree and some may be thrilled with my plan, but it's what makes the most sense to me at this time. I will closely monitor events and adjust our policy as I believe it is best for all of us.

Stitch 'N Time Fabrics will reopen on Monday, May 4, under regular business hours. We will continue to thoroughly clean and sanitize. We understand that some of you will not feel comfortable venturing out to shop and some of you will fall into the vulnerable category and be unable to do so. To provide service to you, we will continue to offer local online shopping and/or phone orders with curbside delivery.

PHASE ONE GUIDELINES

Customers will be asked to use hand sanitizer as they enter the store and before using the credit card keypad
All customers, as well as Stitch 'N Time staff, will be asked to wear a mask while in the store
Stitch 'N Time will limit in-store shopping to 4 customers at a time, and you will need to ring the door bell to be able to come into the store.
Stitch 'N Time staff will respect the 6' social distance directive with each customer and ask that you do the same for the staff
Tape will mark off 6' distance from register and cutting counter to help customers with distancing
And while we absolutely cannot wait until we can all fellowship together again, Stitch 'N Time will not host any open sew events or classes until we are safe to do so

Please, if you travel out of state or are in high risk situations and have not been isolated for 14 days before venturing out, please don't come in.

If you have a cold or don't feel well, please don't come in. Let's all practice safe re-entry measures.

The safety of all of us is so important to me. Thank you for your understanding as we navigate the new normal.

Sincerely, Valerie Strycker

Stitch 'N Time Fabrics

2305 Miami Street

South Bend, IN 46614

574-234-4314
It is at times like these that the truly important things in life become crystal clear. Stitch 'N Time Fabrics urge each of you to watch out for your own health and that of your families, employees and customers, as we do the same.
The above quote says it all.
We are in this together - and are here for each other!
*****
A Local Disaster Emergency has been declared by St. Joseph County and South Bend leaders. Beginning at 2 pm Thursday March 19 only essential travel will be allowed.
That includes going to and from work, going to the grocery store, picking up prescriptions, visiting a doctor's office, dropping kids off daycare, picking up food and traveling for emergencies.
Stitch 'N Time Fabrics will be closed temporarily but will be doing online orders from our website https://www.stitchntimefabrics.com/
You can also call us to place an order. Please call us if you have any questions.
Phone Number is 574-234-4314
We will keep you updated. Please inform your friends and family also.
Other cancelled events are the following-
Classes, Valpo Quilt Show, and Spring Fling Shop Hop- new dates to be determined at a later date.
*********************************************************************************

Mask Making ideas-


Dear Sewing Community,
There is a critical shortage of face masks for health professionals and first-responders.
We have been asked to mobilize our community to do what we do best: sew.
We are calling on you all now to share the "Keep Calm and Sew a Mask" campaign on all of your social media platforms.
There is a tremendous need for masks that tie at the top and the bottom, as seen below:
A large hospital uses hundreds of thousands of masks a week -- so we need to move as quickly as we can.

To start making an impact, get your materials ready and click the link below:
Click Here for Mask Making Instructions- https://freesewing.org/docs/patterns/fu/instructions/

Thank you all for making a difference,
David Weinstein
President, Andover Fabrics

Andover Fabrics
1384 Broadway
Suite 1500
NY NY 10018
************************************************************************
Additional information re: Sewing face masks.
Many places to find patterns for face masks.
The link to the mask that Andover sent was chosen specifically because elastic is in short supply. This pattern has ties.
Here is the link to the tutorial video:
https://freesewing.org/docs/patterns/fu/
Deaconess Medical Center in Evansville, IN was one of the first to request the public to sew face masks. They posted an update saying that they have plenty of masks coming their way. They encourage everyone to reach out to local hospitals, nursing homes, cancer-related organizations, etc. in your own local area to see if they need masks & to arrange a drop-off.
For adult or children's masks-
If you have elastic available, here is a link to the Deaconess Medical Center tutorial to sew a face mask (scroll to bottom):
https://www.deaconess.com/How-to-make-a-Face-Mask…

Click here-VIDEO HOW TO MAKE MASKS!
Related article:
https://www.courierpress.com/…/coronvavirus-who…/2884671001/
Each Hospital is different but at these times we know anything can help. Please help our community to be safe!
https://turbanproject.com/patterns (select "patterns: and scroll to find "adult medical face masks".
FYI: dimensions are 9" x 6" for mask piece (need 2) and 7" for ¼" elastic (need 2)
Go back to- Videos and select adult medical face masks. SUPER SIMPLE!
Tips: Tightly woven cotton is best for barrier. At least one side needs to be cotton flannel. (Little remnants of quilt squares come to mind (Cotton can take really hot water).
Drop off places to help-
If you are local-
Beacon Health System
710 N. Niles Ave, South Bend, IN
Drop offs from 8am-5pm
Trail Point Village
1950 Ridgedale Rd
South Bend, IN 46614
Drop off at front door under awning inside double doors.
For more info call Kevin at 1-801-403-7917.
NO need to wash. They will be sterilized before use.
Please don't hesitate to reach out if you need additional info, or if I can help with anything else.
Thank You for helping!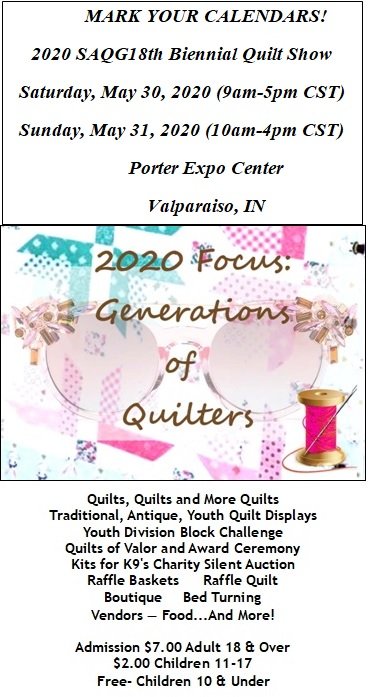 Shop Hop Postponed until further notice due to the Corona Virus Crisis!



_____________________________________________________________



Charities you can help with-
We are a Project Linus
Drop Off Center
Provide new, handmade, washable blankets to be given as gifts to seriously ill and traumatized children, ages 0-18. It is Project Linus' policy to accept blankets of all sizes, depending on local chapter needs. All blanket styles are welcome, including quilts, tied comforters, fleece blankets, crocheted or knitted afghans, and receiving blankets in child-friendly colors. Always remember that blankets must be homemade, washable, free of pins, and come from smoke-free environments due to allergy reasons.
To help you get started, be sure to check the "Patterns" page. There you will find links to many of the popular, free patterns.
http://www.projectlinus.org/patterns/



Kid's Pillowcases